Thirty year broadcast veteran Barry Michaels, ('Michaels In The Morning') has quite a few stories to tell!
Barry became interested in radio at an early age, becoming a 'gopher' for one local radio personality and quickly learning where the emphasis is placed in the term 'show business'.
His early life was an idyllic one, growing up on picturesque farm land in the southeastern United States, with a Mom and Dad to admire and a support group of aunts and uncles that many don't have today.
Barry's career began in earnest after college, when he finally screwed up his courage to apply at a small radio station near his hometown, where he spoke mostly to cows. Little did management know that he would have paid them to be on the air!
From having the honor of being recognized by his peers with nominations as Major Market Air Personality of the Year to working as a towel boy in a swanky country club between radio jobs, you'll share in Barry's top of the mountain triumphs and bottom of the valley lows. You'll get to meet some of the most talented professionals in the business and you'll cheer the heroes and clinch your teeth at the bad guys! Barry also honors those who entertained and inspired an entire generation of radio personalities-the voices on those fifty thousand watt a.m. radio stations with legendary call letters like WLS, WCFL, WABC and more.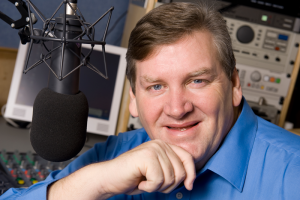 From sleeping in his Volkswagen 'Bug' to traveling across the United States five times in search of the perfect on air radio job, Barry's stories are poignant and laugh out loud funny. Learn how Barry was almost gunned down by a psychotic listener at a radio station in Orlando, Florida before his boss intervened. See radio through his eyes when he begins work at a rock and roll station that employs a Catholic priest as a 'DJ', and dodges flying beer bottles in one of the many bars he makes appearances in for his radio station.
The 'Radio Road' is fraught with many bumps along the way and you may even see yourself as Barry attempts to raise three young sons as a single father and tries a comeback after a bitter divorce and child custody battle. You may not want to enter the thirty five dollar a week almost condemned house Barry was living in while awaiting the court's ruling. You really don't want to wake up in his room during a thunderstorm as rats prepare to feast on his toes! Meet his new landlord, who's down on his luck too, and has a secretive past with the United States Army. Barry's adventures have taken him from the beautiful stillness of his blue Virginia mountains to the golden Pacific ocean–all seen through the window of his beloved Volkswagen Beetle, which he still owns. It's radio, it's life, and it's real. Come along for the ride, and find out the true stories of those 'masked riders of the hertzian wave.' With photo and audio collection.