Many call centers hire remote agents – individuals who work at home. Normally, phone calls are directed to the remote agents, who answer them as if they were working physically in a call center.
Nowadays, remote agents are expected to handle more than just phone calls but e-mail or instant message inquiries as well. However, the work mainly depends on the company the remote agent is working for. Most call centers do not directly employ their staffs; instead, they rely on other companies for the recruitment, training and management of those people answering phone calls.
The Equipment for a Work-At-Home Call Center Agent
In order to become a remote agent or a work-at-home call center agent, there is a variety of equipment required. First on the list of equipment is the computer. It may be advisable to have a computer running on Windows operating system with at least 300 MHz processor. Additionally, there might be a need for an additional 600MB of free space on the hard drive and at least a RAM of 256 MB. These are just the basic overview of the specifications since the specific requirements regarding the speed and memory of the computer may vary from employer to employer.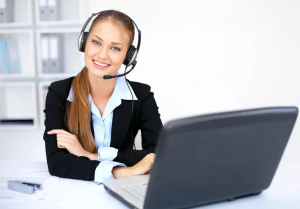 Next is Internet access. Most of the communication that will happen, as well as the actual call center work will be done on the computer and it is necessary to have an email address. Additionally, it is advisable to download a VoIP application or any instant messenger depending on the company's preference. In order to assist customers in an
efficient and timely manner, it is a requirement to have a high speed Internet access via DSL or cable modem of at least 128K.
Telephone, especially the traditional corded phone is necessary. VoIP or cellular phones are usually not acceptable, as well as cordless telephones. In addition, it may be required to have the call waiting feature from the phone disconnected since many employers may require an agent who can solely take work-related phone calls. This can also minimize the chance of receiving calls that are not work-related during the shift.
The Do's Of Telephone Etiquette for a Remote Agent
It is necessary to have excellent phone skills when working as a remote agent. Take time to listen and understand what the customers are saying. By doing this, the customers would feel respected and important, which can increase satisfaction and retention. Additionally, always be aware of the tone of your voice – be upbeat and enthusiastic. Usually, negative response from a caller results from the agent's tone of voice. It is important to sound happy and inviting to achieve positive reactions from the customers. Asking questions can prevent dead air when you are looking for or typing information for the customer. This skill normally takes time to develop but you can start by asking simple questions about the caller's needs and show that you care about his or her queries.
Through practice and diligence, anyone can be a successful remote agent. However, it is important to undergo training and collect knowledge, which are useful in handling phone calls successfully. Remember, training materials should always be kept on your workstation to help you refresh your memory and ensure that you are not only following the policies set by the company but also be able to handle any calls that come you way.