My small business was growing in almost every way imaginable. Every way except the bottom line, that is.
My company primarily does business over the phone, with over ninety percent of our sales coming across our telephone lines. When our call volume started to increase late last year, I hired several new employees to man our existing phone system. We updated our computer software, desktops and server to make order processing substantially smoother.
We redesigned our website for easy navigation and ordering for internet customers. We even integrated our shipping department to handle an increase in orders. The phones were ringing off the hook several times throughout the day as our business increased, and we started to see a slight shift in the right direction for our profits. Still, I wondered if we were losing calls because of a lack of response time.
Our phone system simply routed incoming calls to any available phone. If no one was available, the customer would hear the phone ring until someone eventually picked up or until they got tired of waiting. I decided to have a trunk study performed, which is a method of finding out how many calls we were losing for not having enough lines. Sure enough, we were missing out on several hundred calls per day. During the busy times, people were calling and hanging up after being made to wait. There was no telling if they ever decided to call back.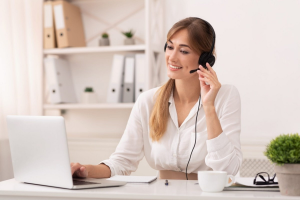 With office space already maximized to the point that I couldn't hire additional employees for lack of a place to put them, I decided to update our phone system. We had several new lines installed and would now have the capability to route incoming calls that were not picked up within three rings to go to an automated message telling the customer to please hold for the next available representative. This helped quite a bit as now our busiest hours seemed to stretch out even longer. We then added desk phones with LCD displays so that our representatives could field up to five calls each. This meant that four less customers per desk would receive the same request to hold, but from a human being.
What was formerly a two hour stretch of nonstop business in the morning and afternoon turned into an all day affair. We then customized our message to inform customers that received the automated message of when the best times to call were, so that they would have the option of calling back at a less busy time. After all this, my business increased tenfold. All I can say is that if you do business over the phone and have times where your lines are ringing nonstop, you need to have a good business phone system in place or you might be losing money.